| | |
| --- | --- |
| Tecta-Tips For Garrett AT Probe (Orange) | |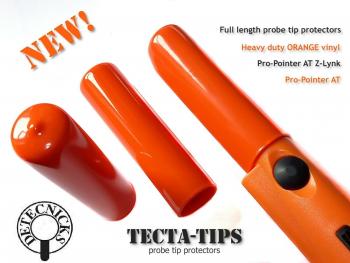 NEW!! Pack of 2 full length 4" TECTA-TIPS probe tip protectors in heavy duty orange vinyl as per photos. To fit Garrett Pro-Pointer AT and AT Z-Lynk probe models. NO PROBE INCLUDED.
Compatible with
Garrett Pro Pointer AT
Garrett Pro Pointer AT Z-Lynk
They also fit standard Pro Pointer and generic probes eg GP Pointer
These are heavy duty orange vinyl metal detecting pin-pointer probe tip protectors which will keep your probe tip in tip top condition! A probe can wear through in less than 12 months especially if you regularly work on gritty soils or in sandy and gravelly beaches!! Catastrophic failure will occur if saltwater gets in through any breach. Keeping your probe in tip top condition will also help maintain a good second hand resale value. You wouldn't use your detector without a coil cover so why neglect your pin-pointer probe!? They don't affect probe performance in use and are a very economical way of keeping it in good condition. These 4" flexible vinyl TECTA-TIPS conform well over the scraper and are designed to cover all of business end saving the logo and depth scale from wearing off.