| | |
| --- | --- |
| Nel 11"x12" Superfly Coil + Cover For Garrett Ace Apex | |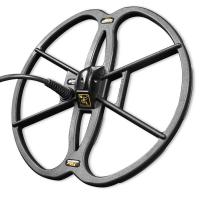 OUT OF STOCK!!!!!!
Nel Super Fly Coil 11" x 12" for Garrett metal detectors. Including coil cover.
The NEL Super Fly coil is NEL's latest development based on more than ten years of experience of search coils manufacturing. The coil is designed based on the wishes of the searchers. Like the best-selling NEL Tornado, the new NEL Super Fly coil is "golden mean" in the range of search characteristics of metal detector coils: depth, separation of metals, sensitivity to large and sensitivity to small targets. The NEL Fly coil is the lightest weight and the optimal size, which makes it versatile and convenient for use in all search conditions. It can detect various targets weighing less than 1 gram to large targets weighing more than 10 kg, at a depth not reachable for any standard coil. Moreover, this coil is lighter than any standard coil, which makes it possible to search all day without fatigue! It is worth noting that the Fly coil is equipped with a new, improved coil cover. The cover has special lateral thickenings, for greater wear resistance. The NEL Fly coil is recommended as a replacement for a standard coil.