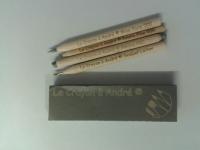 Now supplied in different packaging
Set of 4 cleaning pencils each 11cms long.
1. Wooden scalpel pencil - The brass point allows you to remove strong concretions before you reach the Patina.
2. Wood Pencil - double width steel wool (non refillable). Used for regular brushing.
3. Wood Pencil - Hard material composed of ammalgamation of brass & steel combined with a special rubber & crystal compound. To remove final stubborn concretions. Again this does not scratch the Patina.
4. Wood Pencil - Composed of materials as in No.3 but with a finer tip to allow access to smaller details.
All the pencils included in this pack can be sharpened with glass paper except the scalpel.