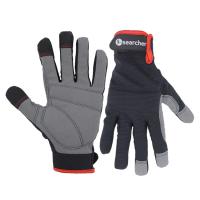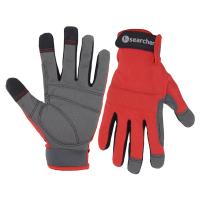 Searcher Detecting Gloves - Protective gloves – helps protect against cuts, knocks and abrasions when you're out detecting.
Features include: Touch screen and anti-vibration; foam padded on palm dampens vibration with added protection; padded knuckles strips reduce impaction; great fitting with easy hook and loop strips fastening.
Features and benefits: Backs are spandex for comfort, flexibility and strength and have foam padded knuckle strips for greater protection. Palms are microfibre with foam padded inner lining for strength, comfort and protection. Fingers are microfibre and spandex for touchscreen capability (on thumb, index and middle). Cuffs are neoprene with a loop and hook closure for maximum comfort and the best fit.
Colours: Black with grey or Red with black/grey | Gender: Unisex | Sizes: L and XL only.