| | |
| --- | --- |
| Minelab Equinox Round Stem-mount Probe Clip | |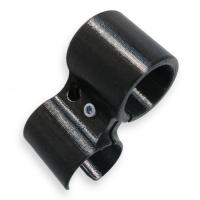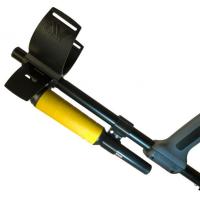 Round Stem-mount Probe Clip
A simple stem-mounted clip to carry your pin-point probe conveniently on the upper stem or your metal detector. Simply remove the arm rest from the detector, and slide on to your preferred position for best balance. Then tighten the stainless steel screw with a 2.5mm allen key.
This design was made to fit the Minelab Equinox, but it will fit other makes and models of metal detector with a round stem of around 22mm diameter. It should fit Minelab Equinox, X-Terra, Excalibur, Sovereign, GoldMonster; Nokta/Makro Kruzer, Fors CoRe/Relic/Gold; various C.Scope models, and more.
Most common pin-point probes will fit the clip, including the Minelab Pro-Find, Garrett and Nokta/Makro Pointers. It features an eyelet for the probe's lanyard, so your pin-pointer will never be far away from your detector or accidentally left behind.
Please note this will not fit Garrett Detectors, which have a thinner stem, or XP and other models with a non-round stem. There is another version specifically for the Minelab Vanquish.