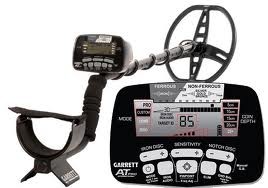 OUT OF STOCK!!!!!!
Garrett AT Pro International Metal Detector including land headphones and alkaline batteries; Garrett camo finds pouch; baseball cap and coil cover
Features
Coil: 8.5'' x 11'' PROformanceTM DD submersible search coil
Pro Mode AudioTM: Proportional Audio and Tone Roll Audio features allow the user to hear characteristics of a target as they would in a True All-Metal Mode.
High-Res Iron DiscriminationTM: Use touchpads to set iron discrimination on one of 40 levels for precise ability to separate good targets from trash.
Graphic Target AnalyzerTM (GTA): identifies target's conductivity
Fast Recovery Speed: Allows greater ability to pick out good targets amongst trash.
Ground Balance: automatic and manually adjustable for improved performance
All Terrain Versatility: Weatherproof housing designed for dust, humid or wet environments; unit can be submerged to a maximum 10-foot depth.
Iron AudioTM: Allows the user to hear discriminated iron and to alter the detector's mid-tone signal's range.
Digital Target ID: 0 to 99 Target ID scale offers increased ability to distinguish one target's conductivity from another.
15 kHz frequency: improved detection of small targets, gold nuggets, jewellery
Continuous Coin Depth Indicator: to determine target depth
Battery Condition Indicator: shows battery life continuall
This all-terrain detector offers new and exclusive Garrett technology that makes it ideal for hunting coins, relics, jewellery, and even gold nuggets. Select from either Standard or Professional search modes with enhanced audio features.
AT Pro's All Terrain Capabilities:
Relic Hunting
Coin Shooting
Prospecting
Cache Hunting
Jewellery Hunting
Shallow Water Searching
Beach Hunting
Competition Events
Mineralized Soil Areas
Advanced Target Separation
Fast Recovery Speed
Professional Audio Mode for Additional Target Info
Garrett AT Pro International Inc Coil Cover