| | |
| --- | --- |
| Coiltek 14"x9" Coil For Minelab Equinox | |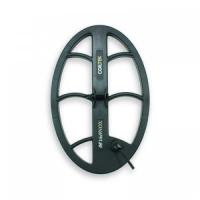 OUT OF STOCK!!!!!!!!!!
Not available for sale outside UK
Coiltek 14 x 9 Inch Elliptical DD Coil for Minelab Equinox
OVERVIEW
This new open web elliptical coil is welcome addition for the Equinox Armory. With an elliptical shape and great depth, pinpointing and sensitivity capability, this robust coil is ideal for detecting in water and open fields.
The coil is Fully submersible to 3 meters and has negative buoyancy so is prefect for searching under water or in surf etc. The coil designed to offer excellent target separation without compromising depth. Pinpointing is fast and accurate. This coil is robust, strong and reliable and its ability to source the treasure amongst the trash is outstanding. Endorsed by Minelab, the coil utilises Multi-IQ technology and is rigorously tested to the highest standards Includes a two year warranty and coil cover..
SUITABLE FOR:
Minelab Equinox 600
Minelab Equinox 800