| | |
| --- | --- |
| XP Adventis 2 on Deus stem | |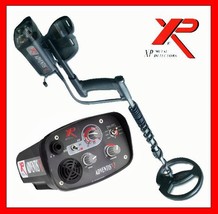 Available to order only
The all NEW adventis 2, more powerful, more sensitive and quicker than ever before. The faster recovery means the ability to find deeper targets even when they are near iron. The Adventis II also comes as standard with the new 9" coil & cover. The frequency shifter on the Adventis II will allow the user to minimise interference from other machines. The XP cordless headphone system is now incorporated within the circuit board of each model, allowing the new XP cordless headphones to be used with the Adventis II with a choice of channels.
Coil cover and hipmount bag provided

Another model that operates at 4.6kHz. Weight 1.5Kg.
2 Year warranty.