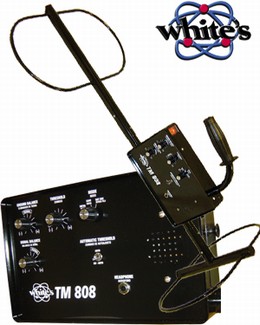 Available to order only
The TM808 is what is usually termed as a 'hoard hunter' although this can be a little misleading as it comes into its own not only when looking for 'hoards' but rather, when any larger target needs to be found at a greater depth than can be achieved by all other hobby metal detectors, such as lost tools, underground pipes, septic tanks, manhole covers, industrial archaeology, aircraft recovery and the such like and yes even suspected caches of lost or hidden coins and artefacts.

The TM808 is not swung form side to side as with 'normal' metal detectors, but is held at the side as the user walks the search pattern.

The TM808 can be ground balanced to search on the all ground conditions, even heavily mineralised sites.
Specifications
Easy tuning and set up
Push button retuning
Adjustable ground balancing
Drop in battery pod
Easy read meter
Wide versatility of uses
Length 38" (Adjustable)
Weight 2.67kg
Operation 4xC Batteries
Warranty of 2 years