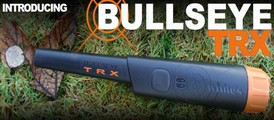 OUT OF STOCK!!!!!!
White's Bullseye TRX is the perfect companion to your metal detector. Locate valuable coins, rings, jewelry, gold and relics! When you've located a target and dug the hole, use the Bullseye TRX Pinpointer to precisely "pinpoint" the target. No tuning. Completely automatic. Powerful LED light illuminates target areas when the button is pushed. Powered for up to 20 hours on two AA batteries or a single 9-Volt battery.
The Bullseye TRX's area of detection is concentrated around the tip, making it easy to zero in on the target. This feature along with the ones below makes the Bullseye TRX the most complete pinpointer on the market.
Highlights
12 kHz operating frequency, doesn't interfere with any other metal detector
Automatic Power Off
Audio and/or Vibrate Alert
Automatic Ground Balance with Tracking
Dual Battery Operation (2-AA or 1-9v)
Overload Indicator
LED Light
Lost Pinpointer Alarm
Replaceable Shell
Rugged, Waterproof Design. Previously just weatherproof.
Target Ratcheting
2 Year Warranty