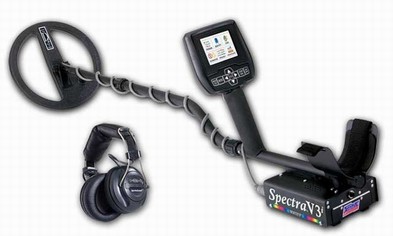 OUT OF STOCK!!!!!
Available to order only
RRP-£1299.00/OUR PRICE-£1119.00
Our lowest priced White's Spectra V3i, Machine with Spectra Sound Wireless Headphones, Nimh battery pack, charger, alkaline pack & batteries
The Spectra V3i is the top of the range metal detector from White's. It features the new Wireless Spectrasound Headphones which have been engineered by White's electronics specially for the Spectra V3i. The full colour, high definition display panel shows all the target information you need in bold, high contrast colour. There are 10 new turn-on-and-go hunting programmes set up by White's engineers and 3 optimized hunting frequencies:
22.5kHz for Gold
2.5kHz for Silver
7.5kHz for general use
New Features
On-Board Quick Reference Guide: A built-in instruction manual! Help is just a keystroke away. Valuable info. at your fingertips for every feature.
Stereo Mixed Mode Audio: All Metal in one ear, Discrimination in the other. All the benefits of true stereo, now digitized to give you the best metal detecting audio available.
Language: Now hunt in Spanish, German, Russian, Turkish, and English.
Polar Plot Vector Screen: A revolutionary new way to ID targets using the accuracy of White's multifrequency. See the phase and strength of each frequency on a vector graph.
Loop Selection: Reliable depth information with all your accessory coils.
Prospecting Scan: This scrolling graphs shows changes in the ground minerals as you sweep to indicate gold bearing areas. Highly mineralized areas signal GOLD!
Soil Type Select: Get the performance edge... even in bad ground. Choose Normal or Salt to tailor ground rejection to the type of soil.
Status Bar Mode Indicator: Never wonder which hunting mode you're using. A simple icon indicates Search, Analyze or Pinpoint.
Live controls on the display panel are customized for each pre-set programme, which allows the user to make adjustments from the "dashboard like" controls.