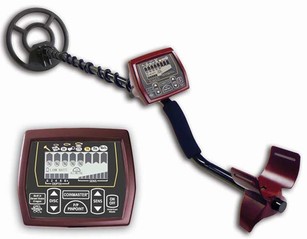 Picture shows burgandy however current supplies are now in black.
Depth Reading as you hunt: Once you've detected a good target, the screen shows you how deep to dig. No extra steps, its automatically on the screen!
Target I.D.: Display shows I.D. of target as you hunt. Hear and see targets!
5-Range Discrimination: Adjusts so you pick what you want to see and hear. Hear and see it all, or just the good stuff.
Adjustable Sensitivity: Maximizes detection depth in varying grounds.
PinPoint/All-Metal Mode: Makes locating your target a snap. Just push the pad!
Spider Coil: Waterproof 9-inch spider search coil.
Rugged: Water resistant control box. Just 2.5 pounds, too.
Low Battery Alert: Powered by two 9-volt batteries.
"Boxed" Coinmaster INCLUDES SCUFF COVER