| | |
| --- | --- |
| Tesoro Compadre fitted with 8" Polo coil | |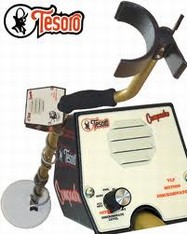 OUT OF STOCK
Picture illustrates Widescan coil - now fitted with an 8" Polo coil.
Tesoro Compadre fitted with 8" Polo coil & Alkaline Battery.
Aimed at the first time buyer, only having a combined on/off, discrimination control, it runs on one PP3 and is hard wired with a 7" " Coil. This detector would suit the budding beginner as well as the more advanced detectorist.
Specifications
Length: 39" - 51" (Adjustable)
Weight: 1.01 kg
Frequency: VLF 12 kHz
Operation: 1 x (v PP3 battery)
Warranty: 1 Year
Including Coil Cover
Boxed Tesoro Compadre, INCLUDES SCUFF COVER!