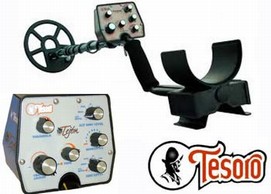 The Tejon is one of Tesoro's top detectors, it has a 17.5 kHz frequency which helps to increase the sensitivity on small gold and silver targets.The Tejon comes with a 11 x 8" widescan coil but the manual ground balance will allow other coils to be fitted. The Tejon has a pitch adjust so the tone can be adjusted and a dual discrimination control for accurate target identification.
Now fitted with the new 11" x 8" coil.
RRP £649.00 our price £589.00
Specifications
Length
39" - 51" (Adjustable)
Weight
1.48 kg
Frequency
17.5 kHz
Operation
8 x AA batteries
Warranty
1 Years
Boxed Tesoro Tejon, INCLUDES SCUFF COVER!