| | |
| --- | --- |
| Tesoro Lobo fitted with 8.5" widescan coil | |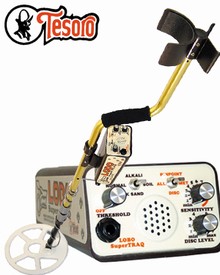 OUT OF STOCK
Illustration shows the 9" x 8" web coil.
The Lobo is primarily a gold nugget hunting detector. It has a full range of discrimination, together with a rising tone as you pass over the object. The Lobo is very sensitive to small objects, as you would expect from a gold prospecting machine. 8.5" DD coil fitted, comes with alkaline batteries.
ALSO AVAILABLE WITH 11" x 8" WIDESCAN COIL!
Specifications
Length: 39" - 51" (Adjustable)
Weight: 1.03 kg
Frequency: 17.8 kHz
Operation: 8 x AA batteries
Warranty: 1 Year