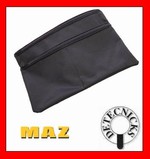 Standard metal detector finds pouch
It is always useful when detecting to have somewhere convenient to put your finds or any rubbish you come across. (never leave rubbish finds in the field or you may find it again next time around).
This versatile finds apron contains two velcro pocket and two small open pouches and a handy belt for hip-mounting.
Main pouch is 36cm across by 24cm in height.