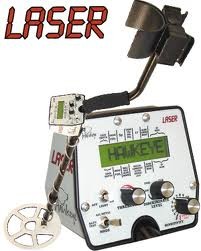 Now fitted with 11" x 8" DD coil Picture still shows 9" x 8" concentric coil
RRP-£599.00 OUR PRICE-£549.00!!!
with the Rapier, this metal detector requires that you set the threshold in all metal mode, but also has a target ID screen.
TheHawkeye is the latest edition to the laser range. Based on a simplified Cortes, the Hawkeye has a digital target identification meter, full range of discrimination, depth reading and threshold control for the pinpoint mode. The Hawkeye is fitted with a 9" x 8" web coil and comes with alkaline batteries.
Features
Microprocessor Control
Digital Target ID Eight segment bar graph
Low noise circuitry
Silent search Disc mode
Three piece stem
Meter light
Switch on and GO operation
Drop in battery packs
Three piece stem
Built in mineral rejection
Two digit ID number
VLF 10KHz Frequency