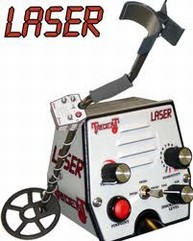 OUT OF STOCK!!
Now fitted with 11" x 8" DD coil Picture still shows 9" x 8" concentric coil
RRP-£499.00 OUR PRICE -£450.00!!!!!!
The Trident II runs at 14.3kHz frequency and comes as standard with a 9"x8" concentric monolithic coil. This machine has fixed & adjustable ground balance to help improve performance and will also use any of the Lobo, Cibola, Trident or Tejon coils. The Trident II comes with a flip switch which enables the user to adjust the frequency from 14.3kHz to 14.5kHz or 14.7kHz.
INC COIL COVER!