| | |
| --- | --- |
| Detectorpro Gray Ghost NDT Headphones | |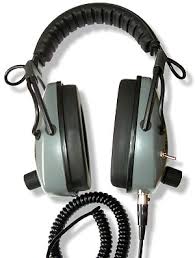 Technical Specifications:
High-quality locking connector system
Dual rotary volume control with "stay put" segmented "click" positioning.
Selector switch for metal detector compatibility with all single-output metal detectors without adapters.
Heavy-duty muff-to-muff connection cable.
Heavy-duty coil cable with two 1/4" stereo connectors.
Compact carry and storage foldable design.
Heavy-duty polymer muffs with full-ear surround, soft comfortable cushions.
Adjustable padded headband... no screws, no wire frame, no rust!
Speakers designed for maximum sensitivity, efficiency, durability, and signal quality.
Special sound-blocking muff design eliminating environmental ambient noise up to 24 decibels.
Impedance: 150 ohms nominal.