| | |
| --- | --- |
| Clear Signal Headphones & Case Nobel II | |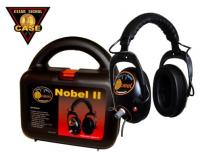 OUT OF STOCK!!!!!!
NOBEL II
The CS Nobel II, with this ultimate headphone The Clear Signal Nobel truly everything is possible. This highly advanced and smartest headphone is a must for every metal detector enthousiast. It is equipped with two separate 41 positions volume buds, which gives you the possibility of adjusting the signal at each ear. With the signal frequency switch you can adjust the tone for the incoming signals in high and low. The CS Nobel II is a double cup headphone. The CS Nobel II offers a snug but comfortable fit and feel, the speaker element still pack a punch with a full 150 ohms impedance.
The CS Nobel II comes packed with all the standard Clear Signal features such as 41 position volume control, mode switch and 90° angled ¼" jack on a high quality coiled cord.
Compact model implemented headset easy to fold for storage and transport.

Technical specifications Nobel II:
► The strong small polymer ear-shell gives a complete surrounding of the ear
► Soft comfortable ear cushions to avoid the slip down of the headphone.
► Adjustable plastic quilted headband for comfortably wearing.
► Dual 41 clicks volume controls, with stay put segments for a perfect adjustment.
► Polarisation switch to make the headphone compatible with other detectors without adapters.
► Limiter switch high and low position.
► Coiled heavy-duty cable with PUR outer shell and full compact inner-core.
► 90° degree moulded waterproof 6,35 mm stereo jack.
► Sensitive speaker element for a loud and clear signal.
► Compact foldable design for storage and transport.
Coiled cable specifications:
► Outer shell: PUR black
► Core: Compact inner-core
► Length in rest position 65cm
► Stretchable up to 260cm
► Returns into rest position
90º angled jack specifications:
► Moulded and waterproof
► Stereo 1/4
► 90º angled
► 360° strain relief
► Nickel plated, doesn't rust