| | |
| --- | --- |
| Clear Signal Headphones & Case Florin | |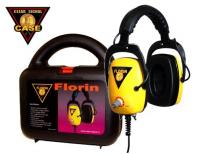 FLORIN
The CS Florin is a very robust double big yellow cup headphone. The Florin is designed for use at the beach. And also this headphone offers a snug but comfortable fit and feel, the speaker element still pack a punch with a full 150 ohms impedance. It comes packed with all the standard Clear Signal features such as double 41 position volume controls, mode switch and 90° angled ¼" jack on a high quality coiled cord. This model has the same typical specifications as all other Clear Signal head phones. However, the Florin has a reinforced body which makes it sturdier. Due to the use of very sensitive components in this head phone, the smallest and weakest signals can be heard. With the signal frequency switch you can adjust the tone for the incoming signals in high and low.

The special designed curly cord has a compact inner core and is equipped with a 90° degree angled waterproof 6.35mm stereo jack. The outer shell of the spiral cable is made of PUR to make it very strong.
Compact model implemented headset easy to fold for storage and transport.
Technical specifications Florin:
► The double big ear shells have been made of durable polymer and have a perfect fitting.
► The headphone doesn't fall down anymore due to the perfect fitting.
► The 41 position volume control takes care of a perfect volume adjustment.
► The output switch makes that this model can be used on every model of metal detector.
► Limiter switch high and low position.
► With the shielded curl-cord you will have no problems with interference.
► 90° angled ¼" headphone jack.
► A 150 Ohm speaker for a loud and clear signal.
► Sensitivity is 73 Dba at 1 kHz.
► Strain relief cable support for heavy-duty use.
Coiled cable specifications:
► Outer shell: PUR black
► Core: Compact inner-core
► Length in rest position 65cm
► Stretchable up to 260cm
► Returns into rest position
90º angled jack specifications:
► Moulded and waterproof
► Stereo 1/4
► 90º angled
► 360° strain relief
► Nickel plated, doesn't rust