| | |
| --- | --- |
| Clear Signal Denier Headphones & Case | |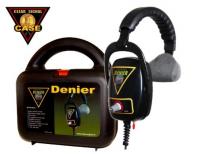 OUT OF STOCK
DENIER
The Denier has one big single ear-shell. Also the CS Denier offers a snug fit but comfortable feel. The use of a single ear-shell headphone could be necessary when you are detecting in a risky area and want to hear what's going on around you. For example; an environment where you can expect approaching cars, bikes or motorcycles. Also on construction terrains where the approaching of an excavator or a truck is possible. This model headphone is widely used in archaeology and excavation companies.

The CS Denier has a single 41-clicks volume control. The opposite position of the ear-shell has a comfortable foam head pad and an adjustable padded plastic headband. The polarization switch allows these headphones to be compatible on all metal detectors without using adapters or additional cables.
The curly cord has a compact inner core and is equipped with a 90° degree angled waterproof 6.35mm stereo jack. The outer shell of the spiral cable is made of PUR.

Compact model implemented headset easy to fold for storage and transport.
Technical specifications Denier:
► The strong big polymer ear-shell gives a complete surrounding of the
ear, soft comfortable ear cushion to avoid the slip down of the headphone.
► Adjustable plastic quilted headband for comfortably wearing.
► Single 41 clicks volume control, with stay put segments for a perfect adjustment.
► Polarisation switch to make the headphone compatible with other detectors without adapters.
► Coiled heavy-duty cable with PUR outer shell and full compact inner-core.
► 90° degree moulded waterproof 6,35 mm stereo jack.
► Sensitive speaker element for a loud and clear signal.
► Compact foldable design for storage and transport.
Coiled cable specifications:
► Outer shell: PUR black
► Core: Compact inner-core
► Length in rest position 65cm
► Stretchable up to 260cm
► Returns into rest position
90º angled jack specifications:
► Moulded and waterproof
► Stereo 1/4
► 90º angled
► 360° strain relief
► Nickel plated, doesn't rust