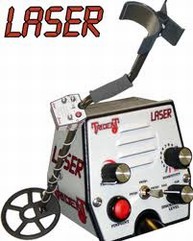 RRP-£399.00 OUR PRICE- £385.00!!!!
The Trident I is designed for the treasure hunter who prefers simplicity when it comes to controls. The Trident runs at 14.3kHz frequency and is housed in the micro max control box. It comes as standard with a 9"x8" concentric monolithic coil and will also use any of the Lobo, Cibola, Vaquero or Tejon coils. The Trident I comes with a flip switch which enables the user to adjust the frequency from 14.3kHz to 14.5kHz or 14.7kHz.
COIL COVER INCLUDED!!
Boxed Laser Trident 1, INCLUDES SCUFF COVER!